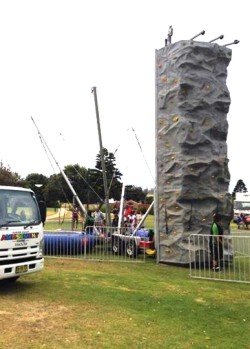 Rock Wall / Bungee Trampoline
The Bungee Trampoline is a great way to feel like you are flying. Riders can do straight vertical jumps off the specially designed inflatable trampolines or do tumble flips once their skill level increases. Each rider is attached to a bungee harness complete with bungee cords (elastics). The ride operator then uses the inbuilt winch to lift the rider to the ride start position. The riders bounce vertically off the trampolines whilst attached to the bungee cords. The bungee trampoline is always one of the most popular attractions at any event. Hire the bungee trampoline today and make your event entertainment sizzle

A climbing wall makes an excellent feature at any event and is sure to entice the crowds in with just its sheer size and presence! Kids (big and small) love the challenge of the rock face and are sure to have plenty of fun in the process. On a serious note the mobile wall can be used to develop communication; trust; leadership and motivation and is ideal for use in schools to support the curriculum.

The mobile climbing wall can be set up on a firm surface (grass or concrete) and can be ready in minutes as it arrives on a portable trailer. The mobile climbing wall is run by fully trained instructors to ensure safe use of the rock climbing wall,


Please call 0413384764 for a price. Amusements are available separately or together.